For Christmas each year I make Noel's office goodies as our way of saying Merry Christmas. This year here is most of what I made for the office. Noel always tells me that I give his office a small piece of what he gets through out the year. Noel had a hard job this weekend; he had to taste all the items when they were done.
Merry Christmas Everyone at Capital Appraisal.
Bisquick Sausage Balls
1 lb. sausage
1 lb. grated sharp Cheddar cheese
2 1/2 c. Bisquick (biscuit mix)
Allow cheese to come to room temperature. Combine all ingredients (easier done by hand). Shape into 1 inch balls and place on ungreased cookie sheet. Bake at 350 degrees for 12-15 minutes. Serve immediately or may be frozen for future use.
Makes 40-50 balls.
SWEET AND SALTY ALMOND BARK
16 OUNCES BITTERSWEET CHOCOLATE, COARSELY CHOPPED (DON'T USE BITTERSWEET CHOCOLATE CHIPS OR WHITE CHOCOLATE CHIPS. THEY WON'T MELT AND WILL RUIN THE ENTIRE BATCH)
16 OUNCES WHITE CHOCOLATE, COARSELY CHOPPED.
2 CUPS WHOLE ALMONDS
2 TEASPOONS COARSE SEA SALT
HEAT OVEN TO 250. LINE LARGE RIMMED BAKING SHEET WITH PARCHMENT PAPER. SPRINKLE BITTERSWEET CHOCOLATE EVENLY OVER PARCHMENT; SPRINKLE WITH WHITE CHOCOLATE. BAKE 5 TO 7 MINUTES OR UNTIL CHOCOLATE IS JUST SOFT.
LET STAND 2 TO 5 MINUTES OR UNTIL CHOCOLATE IS COMPLETELY MELTED. SWIRL CHOCOLATES with BUTTER KNIFE OR SMALL ICING SPATULA. SPRINKLE WITH ALMONDS AND SALT, PRESSING ALMONDS LIGHTLY INTO CHOCOLATE. COOL TO COOL ROOM TEMPERATURE. REFRIGERATE UNTIL FIRM. CUT INTO IRREGULAR PIECES. (THE BARK CAN BE MADE UP TO 10 DAYS AHEAD. REFRIGERATE IN AN AIRTIGHT CONTAINER).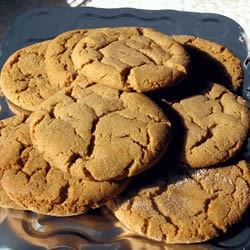 GINGERSNAPS
¾ CUP SHORTENING
1 CUP PACKED BROWN SUGAR
1 EGG
¼ CUP MOLASSES
2 ¼ CUP FLOUR
2 TEASPOONS SODA
1 TEASPOON CINNAMON
1 TEASPOON GINGER
½ TEASPOON CLOVES
¼ TEASPOON SALT
GRANULATED SUGAR
MIX THOROUGHLY SHORTENING, BROWN SUGAR, EGG AND MOLASSES. BLEND IN REMAINING INGREDIENTS EXCEPT GRANULATED SUGAR. COVER AND CHILL ONE HOUR
HEAT OVEN TO 375 DIP TOPS IN GRANULATED SUGAR. PLACE BALLS SUGARED SIDE UP AND PLACE 3 INCHES APART ON LIGHTLY GREASED COOKIE SHEET. BAKE FOR 10 MINUTES.
PEPPERMINT COOKIES
½ CUP PACKED BROWN SUGAR
¼ CUP SOFTENED BUTTER
1 EGG
1 CUP ALL PURPOSE FLOUR
½ TEASPOON BAKING SODA
¼ TEASPOON SALT
½ CUP HERSHEY'S CANDY CAN KISSES, CHOPPED
24 WHOLE HERSHEY'S CANDY CANE KISSES
HEAT OVEN TO 375. BEAT BROWN SUGAR AND BUTTER IN MEDIUM BOWL AT MEDIUM SPEED FOR 1 MINUTE OR UNTIL CREAMY. ADD EGG AND VANILLA; BEAT UNTIL SMOOTH
COMBINE FLOUR, BAKING SODA AND SALT IN SMALL BOWL; BEAT INTO BUTTER MIXTURE AT LOW SPEED UNTIL COMBINED. STIR IN CHOPPED KISSES. (You can use food coloring to change the dough color or leave it as a white dough.)
DROP SCANT 1 TABLESPOON DOUGH PER COOKIE ON PARCHMENT PAPER-LINED BAKING SHEETS 2 INCHES APART. BAKE 6 TO 7 MINUTES OR UNTIL LIGHTLY BROWNED. REMOVE FROM OVEN; PLACE 1 WHOLE KISS IN CENTER OF EACH COOKIE. COOL ON BAKING SHEETS ON WIRE RACK 3 MINUTES. REMOVE FORM BAKING SHEETS, COOL COMPLETELY.
SUGAR COOKIES
1 CUP MARGARINE SOFTENED
1 ½ CUP POWDERED SUGAR
1 EGG
1 TEASPOON VANILLA
½ TEASPOON ALMOND
3 CUPS FLOUR
1 TEASPOON SODA AND CREAM OF TARTER
¼ TEASPOON SALT
CREAM MARGARINE AND POWDERED SUGAR; ADD EGG AND FLAVORINGS; BEAT WELL. ADD THE DRY INGREDIENTS. REFRIG. 45 MINUTES TO 1 HOUR
ROLL OUT AND BAKE AT 375 FOR 10 MINUTES. Make sure you do not overcook these. The dough does not get really stiff. I roll my in powdered sugar instead of flour but both ways work.
COOL AND FROST WITH
1/3 CUP SOFT MARGARINE
3 CUPS POWDERED SUGAR
1 ½ TEASPOON VANILLA
1 TEASPOON ALMOND
3-4 TABLESPOONS MILK
Cream Wafers (This recipe you must use butter or it won't be the same).
1 cup soft butter
1/3 cup whipping cream
2 cups all purpose flour
granulated sugar
Mix thoroughly butter, cream, and flour. Cover and chill.
Heat oven 375. Roll about 1/3 of dough at a time, 1/8 inch thick on floured board. Cut into 1 1/2 circles. (keep other dough cool)
Transfer rounds to piece of wax paper covered with granulated sugar; turn each round so that both sides are coated with sugar. Place on ungreased baking sheet. Prick rounds with fork 4 times.
Bake 7 to 9 minutes or just until set but not brown; cool.
Creamy Filling
Cream 1/4 soft butter, 3/4 cup confectioners' sugar and 1 teaspoon vanilla until smooth and fluffy. Tint with a few drops of food color. Add a few drops of water if necessary for proper spreading consistency.
Dried Fruit Cookies
* 1/2 pound dried figs
* 1/4 pound raisins
* 2 ounces candied cherries, coarsely chopped
* 2 ounces dried apricots, coarsely chopped
* 1 tablespoon honey
* 2 tablespoons dry sherry
* 1 tablespoon freshly squeezed lemon juice
* 6 ounces chopped pecans
* Kosher salt
* 1/2 pound (2 sticks) unsalted butter, at room temperature
* 1/2 teaspoon ground cloves
* 1/2 cup superfine sugar
* 1/3 cup light brown sugar, firmly packed
* 1 extra-large egg
* 2 2/3 cups all-purpose flour
Directions
Snip off the hard stems of the figs with scissors or a small knife and coarsely chop the figs. In a medium bowl, combine the figs, raisins, cherries, apricots, honey, sherry, lemon juice, pecans, and a pinch of salt. Cover with plastic wrap and allow to sit overnight at room temperature.
In the bowl of an electric mixer fitted with the paddle attachment, cream the butter, cloves, superfine sugar, and brown sugar on medium speed until smooth, about 3 minutes. With the mixer on low speed, add the egg and mix until incorporated. With the mixer still on low, slowly add the flour and 1/4 teaspoon salt just until combined. Don't overmix! Add the fruits and nuts, including any liquid in the bowl. Divide the dough in half and place each half on the long edge of a 12 by 18-inch piece of parchment or waxed paper. Roll each half into a log, 1 1/2 to 1 3/4-inch thick, making an 18-inch-long roll. Refrigerate the dough for several hours, or until firm.
Preheat the oven to 350 degrees.
With a small, sharp knife, cut the logs into 1/2-inch-thick slices. Place the slices 1/2-inch apart on ungreased sheet pans and bake for 15 to 20 minutes, until lightly golden.
Fantasy Fudge
3 cups sugar
3/4 cup margarine
2/3 cup evaporated milk
1 12-oz. (340 g) package semi-sweet chocolate chips
1 7-oz. (198 g) jar Kraft Marshmallow creme
1 cup chopped nuts
1 teaspoon vanilla extract
Traditional method:
Combine sugar, margarine and milk in heavy 2-1/2 quart saucepan; bring to full rolling bail, stirring constantly. Continue boiling 5 minutes over medium heat, stirring. Remove from heat, stir in chocolate till melted. Add marshmallow creme, nuts & vanilla beat till blended. Pour into greased 13 x 9-inch baking pan. Let cool and cut into 1-inch squares.
Microwave method:
Microwave margarine in 4-quart microwave-safe bowl on HIGH (100%) 1 minute or until melted. Add sugar and milk; mix well. Microwave on HIGH 5 minutes or until mixture begins to boil, stirring after 3 minutes. Mix well; scrape bowl. Continue microwaving on HIGH 5-1/2 minutes; stir after 3 minutes. Stir in chips until melted. Add remaining ingredients; mix well. Pour into greased 13 x 9-inch baking pan. Cool at room temperature; cut into squares. Makes 3 pounds.

Cheese Ball
1 (8oz) package of Cream cheese
1 container of blue cheese
8 oz of Sharp Cheddar Cheese
2 tbsp Worcestershire sauce
1 small onion chopped (optional)
Tabasco sauce to taste
1-3 tsp garlic powder
1 cup chopped nuts
mix all ingredients together and shape into a ball. Roll in the nuts, cover and refrigerate.
Apple Cider
1 Large jug of Apple Cider
Orange Juice
Lemon Juice
Pineapple Juice
Honey
Brown Sugar
Cinnamon Stick
Cinnamon
Nutmeg
Ground cloves
Allspice
Pour the jug of apple cider into a large pan. Then I start to add the citrus juices to the pan and add some honey and brown sugar. Put in my cinnamon stick and sprinkle in the other spices. I let it get warm and then I have Noel taste it to see if there is anything missing and then I add what I need to get it right. Every time it is different by a slight variation.